2020 holiday marketing is different, there's no doubt about it. Black Friday already saw new records in online shopping, according to Adobe Analytics, amidst the pandemic. And with Christmas and New Year coming up, we are likely to see similar trends. Most consumers are looking for deals online and preferring to either get goods delivered home to order online and pick-up items in-store. With people also continuing to stay indoors and spending the Holidays at home, users will be spending more time streaming content through Connected TV (CTV). And advertisers cannot overlook this for their holiday marketing strategy.
Discovering shoppers where they are present
Advertisers always want to reach the users in the moments that matter the most. CTV, with its highly engaging content, offers a new way of consuming content. With the pandemic and the subsequent lockdown in many countries, CTV adoption has grown manifolds, presenting new opportunities for advertisers too. According to an IAB study, the average CTV spends for 2020 is expected to reach $16M per advertiser in the U.S. Further, as compared to broadcast and cable TV, more than 50% of buyers are shifting advertising dollars towards CTV. With users switching from Linear TV to CTV, the time to make your brands reach the premium CTV audience is now!
How to use CTV for holiday marketing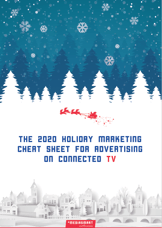 CTV offers plenty of opportunities to add to your holiday advertising strategy. A couple of ways in which you could add CTV to your marketing mix are for:
Prospecting interested buyers with intention to purchase
Build location-based audiences to drive store campaigns
Increase brand impact by syncing your ads on CTV with ads on other devices in the same household
Check out our holiday marketing cheat sheet to explore more about advertising with CTV!