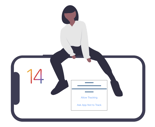 Apple will launch iOS 14 in Mid-September this year* which will bring a number of changes at different levels. Will they affect you as an advertiser? Yes, particularly, if you promote apps. In a nutshell, iOS 14 will make user opt-in compulsory at an app level for tracking (IDFA sharing) and precise GPS information.
At mediasmart we have your back!
We have been working tirelessly since Apple's announcement to minimize any negative impact on your campaigns and to actually take advantage of the new opportunities that will open up. We have prepared a set of comprehensive documentation for you to review, but the very quick summary is:
a) If you promote apps, tracking installs and post-install events in iOS 14 inventory is going to be disrupted. We recommend you to use Apple's tracking solution - SKAdNetwork - even if in combination with your current tracking solutions, which we support, and here you have more details on our recommendations for app user acquisition campaigns in mediasmart.
b) If you run campaigns or manage audiences that use location and use footfall tracking, you will see your reach reduced on iOS14. You may consider targeting locations with Medium Precision to maintain reach of geo-targeted campaigns. You may need more time to reach the same number of users in a location based audience. And when it comes to footfall measurement, you will measure fewer attributed visits but, thanks to our focus on incrementality, you will continue to measure your campaign's impact in exactly the same way; you may just need a few more impressions than today for your incremental KPIs to be statistically relevant in iOS.
How does mediasmart help you?
At mediasmart we are working extensively and communicating with other players in the value chain to best prepare for the change. We work closely with SSPs, MMPs and industry initiatives for universal identity while we work on our own solutions to upgrade our existing features - which have always followed privacy by design - for a world without IDFAs.
As you know, you can easily exclude iOS 14 inventory, or specifically iOS14 inventory where users have not opted in to share their IDFA and location, but we have also made changes so that iOS inventory with no opt-in is as valuable as possible for your campaigns.
Learn about the specific developments we have worked on here
Can this be an opportunity?
You may be tempted to think that having a lot of inventory without IDFA is terrible news, and that is how it has been mostly portrayed in the media. But changes are not always bad and often bring up new opportunities.
Deterministic tracking has made a lot of advertisers "feel safe" by having lots of granular user data, but it has opened up a door to a lot of fraudulent activities that went under the radar As deterministic, user level data is no longer that readily available, this should be the trigger to increase the use of incremental metrics to drive decisions. And this will lead to less wastage in advertising budgets! mediasmart incremental metrics in App Marketing and Proximity Campaigns, may now be more demanded than ever.
We have also seen the upcoming increase of inventory without IDFA as an opportunity to innovate and, while trying to solve that problem, we have evolved our cross-screen and cross-environment capabilities, enabling a whole set of new possible use cases for our client's campaigns. For example, targeting a user segment made up of native user IDs in mobile web will now be possible in mediasmart! You can read more on our thoughts here.
We provide some more information here to summarize some key concepts and explain our approach in case you need more detail.
We will soon invite you to webinars on the subject and will keep adding more info on a regular basis, but please reach out to us if you have any questions.
---
*Disclaimer: On September 3rd Apple announced a change in the release date of the advertising privacy feature in iOS 14 from mid September to early next year. To read more information, about the announcement click here.