We are VERY excited to finally reveal our Real Time Footfall Measurement feature! Footfall is the final piece that completes our new relaunched product: Proximity Campaigns.

Read below and enjoy the possibilities we bring you; from Geolists and our POIs discovery tool to now measuring Footfall, and quantify the real impact of your campaign!

For extra information check our Proximity Campaigns definitive guide and our Two -pager for Proximity Campaigns

Footfall Measurement

If you are looking to run Drive to Store campaigns and want to include a way of measuring and maximizing the amount of store visits generated by such campaigns, we got you covered!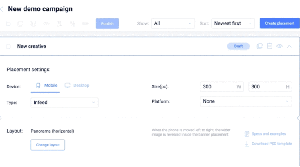 With a very easy set up process - thanks to our new and special Proximity Campaign's Wizard - you will be able to launch your Footfall campaign in the areas you decide, measure the impact of your campaign and have more elaborate reports to help you analyze better!


Read more about Measuring Footfall in Real time.


Measure the Impact of your Proximity Campaign

As we mentioned briefly before, in addition to measuring Footfall, we have new KPIs - Uplift Factor, Exposed % & Incremental Visits % - that allow us to determine what is the incremental value that comes directly from your campaigns.

These KPIS bring new insights and more elaborate reports, which come at an additional $100 cost per campaign.

But as we are feeling very excited for this launch, these reports will be FREE this week ONLY!

This article also appeared in Exchange wire
---
New Campaign's Dashboard

Ana Peinado, Front End Developer at mediasmart :"We've redesigned our Campaign's Dashboard section to include footfall KPIS, Graphs and Cool New Insights. Check it out!"
New Experian Audiences

Gema Posada, Partnerships Manager at mediasmart:
More features released in V 1.4.2
There are new improvements waiting for you in our latest version:
Tracking Tool Appsflyer -

You are now able to measure post view conversions

and modify attribution windows for impressions & clicks

New analytics

KPI for Footfall Cost

- You can now download reports by OtherCost.

Sticky ads has been renamed

to Freewheel/StickyAds.

A new color for our warning notifications.

Bugs & Fixes.