Television consumption habits are changing. Internet-based viewing options have replaced antennas and cable as an estimated 13 million households moved to Smart TV, ditching traditional TV. In the last couple of years, the video entertainment industry has exploded with the growth of CTV streaming devices and OTT platforms, changing how content is viewed across devices.
With the Covid-19 pandemic, the shift towards the adoption of CTV has further accelerated as people looked online for easily accessible entertainment options, with 80% of U.S. households now owning at least one CTV device. CTV, here, has many advantages over traditional TV. But before we dive into that, let's take a step back to understand what is CTV.
What is Connected TV
In the simplest terms, Connected TV is a television that gets its content from the internet, delivered via online streaming or consumed on-demand. While linear TV gets its content from cable, CTV streams content through apps downloaded from a TV app store. Smart TV, connected devices, or dongle, gaming consoles all enable apps and video streaming and come under the umbrella of CTV. Popular examples of CTV include Apple TV, Fire TV, Xbox, and Playstation. OTT platforms like Hulu or Netflix make their content available on CTVs, streaming content, and it is ad-supported if a publisher chooses to.
While in linear TV, advertising is linked to the programs and the schedule, advertising on CTV is done via programmatic channels, with all the usual benefits of programmatic technology. This gives advertisers the benefits of showing ads on TV with a greater ability to build brand awareness and engage users.
Advertising on CTV: Benefits and Opportunities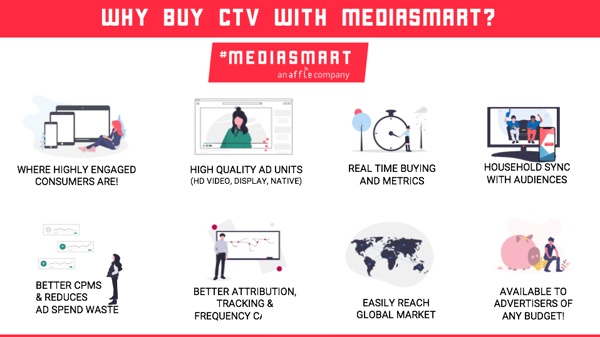 1) Efficiently target highly engaged users: According to a Hubspot report, media consumption habits have been permanently changing so much that the idea of "watching TV" for GenZ and millennials now equates to watching via an online source. Naturally then, advertising is also moving towards CTV as brands look for new ways to capture the new user segment. In fact, when done right, Gen Z is more receptive to advertising messages as compared to older generations. CTV allows advertisers to create targeted user segments from a pool of large targeting options to refine messaging. Further, niche technologies like household sync make advertising on CTV more attractive by syncing CTV ad campaigns with ads on other connected devices in the same household, improving brand impact.

2) High-quality ad units: Just like programmatic campaigns on other channels, CTV also allows ad placements to be bought and sold like digital video. Advertisers have a variety of creative options to choose from: whether it is static or dynamic banners, in-stream ads, or pre-roll videos (15-30 seconds), advertisers have multiple formats at their disposal to make their advertising perform. Ad units are bought in real-time through OpenRTB. Interactive ad formats that engage users in real-time allows advertisers to improve their view-through rate as well as reduce ad waste.
3) Cross-screen audiences: With CTV, advertisers can also reach those users they already have on mobile audiences by taking full advantage of the cross-screen audience capabilities. This way, advertisers are sure to get users when they are most engaged. For instance, an advertiser is able to target on their Smart TV those users that visited your competitor's stores in the last 7-days using a time-based audience over a location-based audience. An advanced cross-screen algorithm also allows advertisers to have the benefit of targeting users in devices that do not use the same identifiers.

4) Tracking and measurement: One of the main advantages of running CTV or Smart TV campaigns vs linear TV is the ability to measure results and the return on your investment. Just like programmatic campaigns allow advertisers to check and optimize campaign performance in real-time based on KPIs, advertising on CTV also delivers real-time tracking and measurement of ad campaigns, including delivered impressions. Advertisers can also measure conversions such as app downloads, eCommerce conversions, and store and website visits.

5) Attribution and frequency capping: Based on the DSP's capabilities, CTV allows advertisers to report and measure the impact of their campaigns with greater flexibility and transparency. Reports such as incremental reach and footfall attribution can also help to close the loop between online and offline conversations of a consumer.
Want a demo of how mediasmart's CTV capabilities can boost your ad performance?