Connected TV (CTV) is fast becoming a new emerging channel for user acquisition.. As more people are moving online, content consumption habits are changing. According to a study by Pew Research Center, 45% of Gen-Z audiences are online constantly and streaming content through internet-connected devices. CTV falls into this category, as it is anything from a smart TV to a streaming set-top box. In fact, more and more households now have CTV and this percentage is expected to grow further by end of this year.

As digital video advertising picks up, the opportunities for brands advertising through Connected TV are growing. It is estimated that the programmatic ad spend on video is projected from 10% to 50% by 2021 with CTV expected to be over 15% of that spend. How can advertisers effectively discover and reach these new audience segments?Audience Targeting and Household Sync Technology on CTV holds the answer.

Audience Targeting and Household Sync technology on CTV enable brands to make CTV ads more engaging. By connecting devices in the same household, the advanced technology makes ads more personalized for specific audiences while bringing together the twin strengths of engaging storytelling associated with TV and CTV advertising as well as targeting associated with Programmatic & Digital advertising. Brands can launch CTV campaigns to a specific audience in the same household, measure results, and drive them to the nearest store.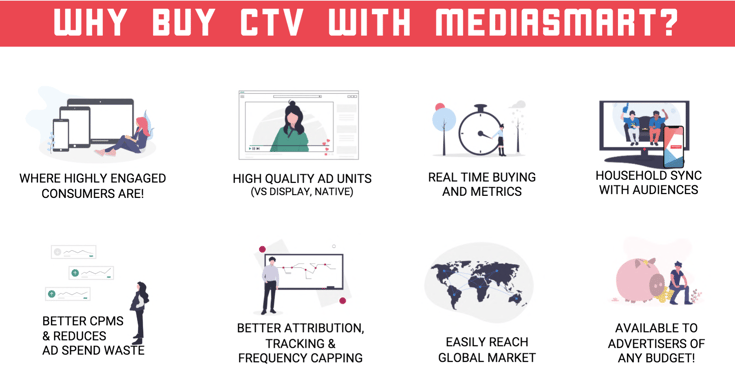 Increased brand impact by syncing ads on CTV with ads on other devices in the household.
Target apps and streaming video on Smart TVs, OTT devices, or game consoles.
Take advantage of combining CTV ads with audiences basis demographic, interest or location – and either 1st-or 3rd-party data. For example, the impact on TV households where there is at least one student (using a location-based audience around universities).
Measure both online conversions and

incremental footfall

and optimize results.
Quantify your TV ads with more than 25 dedicated KPIs in real-time. Know where and when you buy impressions. Measure revenue and profitability in a way that is impossible in traditional TV.
Want to find out more about the Connected TV opportunity and how mediasmart can help you? Get in touch with us on sales@mediasmart.io to kickstart your campaigns!