We have lots of new things available for you in our latest version this week!
From our partnership with Nexd, that ables you to create amazing rich media creatives, to our new feature "ghost ads" to measure incremental metrics in your App promotion campaigns, to new articles in our Knowledge to help you with your campaigns and much more.
Enjoy!
· · ·
Nexd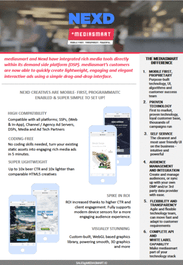 We are so excited for this one! From now one you are able to create Nexd rich media creatives from mediasmart console. You are now able to quickly create lightweight, engaging and elegant interactive ads using a very simple drag-and-drop interface.
Most rich media solutions use HTML5 to power their creatives, which has been a large factor in slow-loading pages and a limited range of creative options.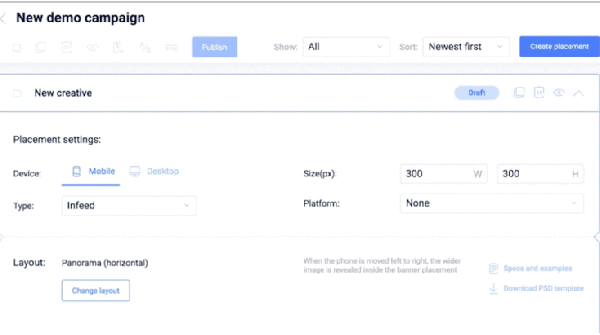 NEXD has spent the last four years building a proprietary, rich media-focused ad framework - NEXD Engine - to overcome these problems by being faster and lighter and allowing for more creativity than HTML5.
Want to know more? Here you have the steps on how to start!
· · ·
Ghost ads for App promotion campaigns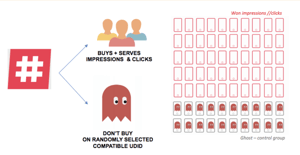 When measuring Incremental Metrics in App Marketing campaigns, we use Ghost Ads; (bid requests that we have stored as "ghost impressions" or "placebo impressions" without us serving an actual ad (placing a bid).
Thanks to Ghost ads, advertisers can gather more information at no price: no need to actually buy media to gather "placebo" results. And these placebo users will NOT be redirected to the app store, independently of whether the partner used by the advertiser allows for customization of the destination URL or not.
Check more information about the use of ghost ads and Incremental metrics
· · ·
New Articles in our Knowledge Base
There a some new articles to help when setting up and optimizing your campaign with us, from Creatives attributes (so you know which attribute to select when uploading your creatives without any issues, specially on video), to how to count re-engagement events (count events that have been attributed to mediasmart without the corresponding install (event 1) having been attributed to us.) and how to measure unique users thanks to our retargeting option!
· · ·
More features

released lately
There are new improvements waiting for you in our latest version!
· · ·
mediasmart

in the news
Check his thoughts about

how attribution settings affect

different creative formats and sizes results,

how fingerprinting can be misleading

and finding the right solution among others!