Read more about our Audience Insights feature; check the evolution thanks to new graphics that show what % of the main audience is present in others or the overlap between them!
Audience Insights Graphics
A few weeks back, we introduced you our new product: Audience Insights. Well, Today, we've got more news about it!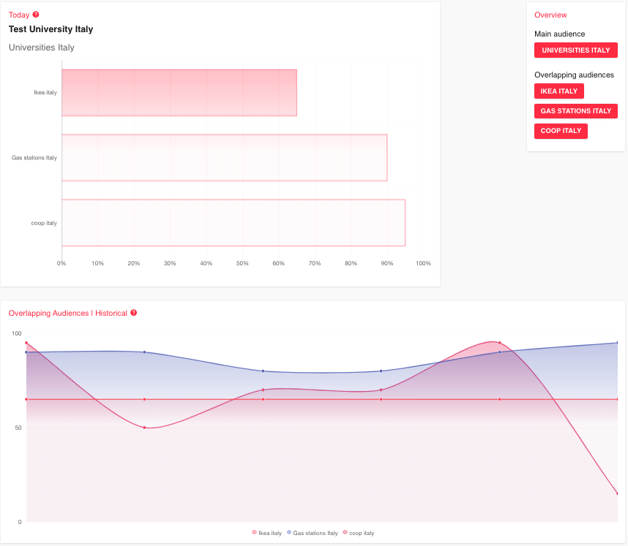 From now on, inside each Audience insight card, you can check the evolution of your Audience Insights!
You now have access to a graphic that shows what % of users of the main audience, are included, "Today", and in the other.
Also a graphic, that shows the daily evolution of the overlap (%) of your audiences.
Get to know more about audiences by reading everything related to Audiences within mediasmart, from uploading or creating your own audiences based on campaign interaction, to 3rd party audiences options, Time-based , Location-based audiences & much more!
If you are already a mediasmart customer, please access our Knowledge base to check everything related to Audiences within our console.
Mopub is transitioning to first-price auction
We received news this week that one of our Supply partners, Mopub, is transitioning to first-price auction in June.
As you know, mediasmart can identify the different pricing rules in the bid request and you can select from the targeting section of your campaigns, which type of price auction you want .
Also, remember that you can check for your campaigns, which bid requests are coming from which type of auction and ad-exchange, through your Reports & Daystats sections.
More features & changes in this release
Take into account that Mobfox is now rebranded as M|SSP as part of

Market|Tech, when you are using the

ad-exchanges targeting section

We have renamed a couple of monitor phases

Bugs & fixes
· · ·
Want to join us? We're Hiring!
We have open positions in our sales and tech teams!