We are very happy to introduce you to two new formats available through our platform! The intuitive and non-intrusive M-Skinz format and the Instant play video format.
Sublime Skinz
We are happy to announce we have certified the M-Skinz format from Sublime Skinz. The M-Skinz format is intuitive and combines the non-intrusive character of a non-static mobile banner and the high impact of an interstitial.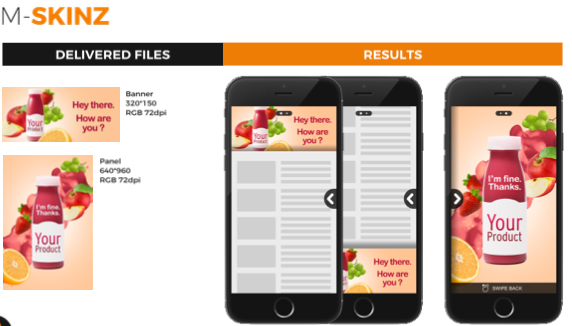 It ensures the advertiser its advertising message will be heard, by respecting the user and inviting her to enter the universe of the brand, instead of forcing it.
Note: This type of inventory is coming via Smart Adserver in our platform. For more information, check this useful article
Instant Play Video from Adcolony
We have a new format coming in from Adcolony: Instant Play Video (pre-Cached High Definition In-App videos). To know how to access this inventory check this article here.